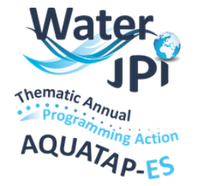 The third AQUATAP_ES workshop was originally due to take place in Madrid, but due to the global COVID-19 pandemic, this was changed to a half day virtual workshop on June 16th, 2020, addressing Aquatic Ecosystems Services Data and Modelling needs. It was attended by 19 people including representatives from the six TAP projects from seven different countries. The workshop was hosted by the Irish Environmental Protection Agency (EPA).

The main purpose of this workshop was to initiate work on the medium-term goals, in respect to Data and Modelling needs. The group used collective knowledge to identify potential data needs. Those needs will very much depend on how ecosystem services are being considered and the questions that the stakeholders are asking/information that they are seeking. The data needs will also influence the modelling and in turn the DSS. This 3rd workshop now demonstrates increased   outputs achieved by the network as they progress work together and further  develop their activities in the AQUATAP-ES implementation plan.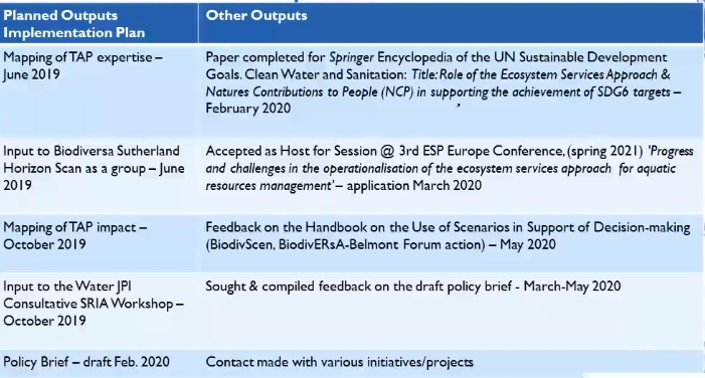 As follow on from the workshop a short survey / questionnaire on Aquatic Ecosystem Data needs and Gaps has been circulated and adverted to interested  stakeholders who work in the area of Ecosystem Services. If you wish you think your work is relevant please fill in the  survey here.
Miguel Ángel Gilarranz Redondo, Water JPI Vice Chair officially handed over the AQUATAP_ES Scientific Coordinator role from Mary Kelly Quinn to José María Bodoque del Pozo. Miguel on behalf of the group thanked Mary for her tireless effort and work in getting the network up and running and ensuring major achievements in such a short timeframe. He congratulated Jose, on stepping into the role and wished him well and continued success for the next 12 months.  Further acknowledgment to Mary were voiced by Dominique Darmendrail (Water JPI Coordinator) and best wishes to Jose.