AQUATAP-ES Briefing Note on Decision Support Systems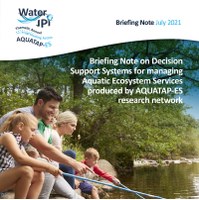 Aquatic Ecosystems Services (ES) are the goods and benefits that ecosystems provide to people and society. They are included in the concept of "Nature's contribution to people" described by IPBES (2018). The ES approach seeks to understand and use this relationship between nature and people to support decisions contributing to global sustainability. The Water JPI AQUATAP-ES research network has produced a briefing note on "Decision Support Systems for managing Aquatic Ecosystem Services". This briefing note can be downloaded here.
Decision Support Systems (DSS) are going to be more widely used in future in a wide variety of areas and confidence and trust in their performance is likely to increase. A DSS is a collection of (i) models (usually mathematical), (ii) its underlying data, (iii) appropriate analysis methods, (iv) relevant knowledge and (v) users that individually or in concert can assist in making informed decisions. In the case of AQUATAP-ES, these decisions relate to the management of water related ecosystems and the services they provide.
Decision Support Systems have a place in every aspect of policy formulation, implementation and in the operational management, including of aquatic systems. They can be used in both top-down and bottom-up configurations.
This briefing note explains why DSS are needed to:
assist water resource & catchment managers, and policy makers
inform and support robust decision making to protect and sustainably manage our freshwater ecosystems.
It provides examples of current DSS's and ones under development and also highlights what the way forward is for DSS into the future.