Pharmaceuticals in the environment: AquaticPollutants expected to contribute to the EU Strategic Approach to reduce their adverse effects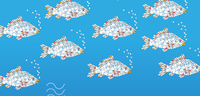 The European Commission has published on 2nd December 2020 an overview of the progress made in implementing the actions of the Strategic Approach to Pharmaceuticals in the Environment. This strategic approach presented last year aims to counteract the negative effects of pharmaceuticals on the environment, covering their whole lifecycle from design and production through use to disposal. Findings show that overall, good progress has been made so far, and some actions presented in the strategy are already well advanced or have even been completed.
The remaining actions are to be achieved through several European Green Deal  initiatives, as well as the Pharmaceutical Strategy  adopted on 2nd December 2020. These Green Deal initiatives include actions that will play a role in reducing the environmental footprint of pharmaceuticals, especially the Chemicals Strategy for Sustainability , the From Farm to Fork  target on reducing the EU sale of antimicrobials for farmed animals and in aquaculture, and the forthcoming Zero Pollution Action Plan . Other initiatives, including the 8th Environment Action Programme to 2030, the Circular Economy Action Plan for a cleaner and more competitive Europe and the EU Biodiversity Strategy for 2030, set a framework for generating an overall shift to a production and consumption of resources, materials and chemicals, which is safe and sustainable by design and creates the lowest possible impact on the environment, including pollutants of emerging concern.
The overview shows that implementation of some actions is already quite advanced:
The revised Surface Water Watch List, under the Water Framework Directive, was adopted in August 2020 and included additional pharmaceuticals. This watch list functions as an early warning system for pollutants in surface waters.
Legal acts are currently being drafted under the Regulation on veterinary medicinal products, which aim to promote a more prudent use of antimicrobials in animals, and implement a wide range of concrete measures to fight antimicrobial resistance.
New guidelines on hazardous household waste have been developed.  Pharmaceuticals are also being considered in the impact assessment for the potential revision of the Urban Waste Water Treatment Directive.
The last Land Use and Coverage Area frame Survey (LUCAS soil survey) sampled pharmaceutical concentration and antimicrobial genes in soil, with results expected in 2022.
The EU has started work with Member States' health ministries, for instance to ensure health professionals consider environmental impacts of medication.
In the research arena, the ongoing Horizon 2020 programme is co-funding with Member States solution-oriented research, such as AquaticPollutants Call which is expected to fill the knowledge gaps on the contaminants of emerging concern, pathogens and antimicrobial resistance development in aquatic ecosystems.
To Read more, please click here.