Beyond water quality: sewage treatment in a circular economy
European Environment Agency report on water treatment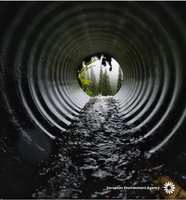 The European Green Deal sets out an ambitious agenda 'to transform the EU into a fair and prosperous society, with a resource-efficient and competitive economy where there are no net emissions of greenhouse gases' (EC, 2019a).
Sewage treatment is an essential service that can deliver clean water, nutrients and organic fertiliser. It can and should contribute to delivering the broad goals of the Green Deal, with a key role in supporting the ambition to achieve zero pollution. Reviews and evaluations of key parts of European legislation, such as the Urban Waste Water Treatment and the Sewage Sludge Directives, present the opportunity to modernise and improve coherency across the sector. While recognising the broad scope of sewage treatment, it must be appreciated that the primary priority is to protect human health and the environment from the harm caused by insufficiently-treated sewage.
This report focuses on water management, but action is needed in other sectors to support this area in achieving the ambitions of the Green Deal. In particular, planning legislation should enable innovative sewage treatment, while upstream efforts on water efficiency and pollution control must minimise both the volume of water to be treated and the level of contamination. Innovation is needed not only in technical approaches but also at cultural levels, for example in allowing citizens to take part in local decisions on approaches to water and sewage management.
Download the report.