The Water JPI at ECOMONDO : Enhancing the added value of Water JPI's research and innovation projects for more informed policy making decisions and market uptake of innovations
Rimini Expo Centre Italy – 11 November 2022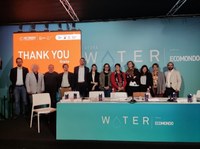 On the occasion of the Ecomondo conference, the Water JPI hosted a seminar on the valorisation of research results in order to support policy decisions and enhance the market uptake of the solutions proposed by Water JPI projects. WaterWorks2017 funded projects MARadentro , iAqueduct, Bloowater, FLUXMED, SIMTWIST  were presented. Discussions held during the roundtable addressed existing barriers for the valorisation of research results, possible strategies for valorisation at both the European and international levels, as well as an action plan based upon key lessons and recommendations.  The dedicated round table was introduced by the presentation of the Water Health Open Knowledge (WHOW) project, funded by the Connecting Europe Facility (CEF) programme. The experience of partners on data sharing and on the Co-creation programme, developed in the frame of WHOW project, has been presented.
Exchanges with roundtable participants unveiled a number of barriers in the valorisation of project results because of inherent difficulties to engage, and to enable dialogue between, different groups of stakeholders in activities. The round table discussion underlined the importance of strengthening the dialogue with the different groups of stakeholders, to involve them during the different phases of projects for trust development and to define a strategy to make project results more accessible. Demonstration sites could definitely contribute to rolling out proposed solutions and engaging stakeholders. Finally, the need for Europe to improve in the production of high-level publications and its overall scientific innovation was mentioned as an important point for the European research community when it comes to valorisation strategies. 
ECOMONDO is the reference event in Europe and the Mediterranean for technological and industrial innovation in the green and circular economy sector within the framework of the Next Generation EU. The 2022edition has counted with 41% more participants than last year thanks to the internationalisation policy launched in recent years, which attracts new and numerous world visitors to Rimini.