Improving water management and resilience to extreme weather events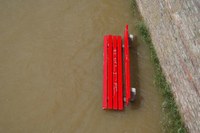 An online platform developed with the aim to support stakeholders of water management in integrated strategies and actions to adapt to climate change and to prevent and reduce the associated risks: the just-released CC-ARP-CE tool is the TEACHER-CE  (joinT Efforts to increase water management Adaptation to climate CHanges in central EuRope) project's main output. The CC-ARP-CE is an online tool that helps users to identify climate adaptation measures for different fields of actions and various land uses in the water management sector, with the idea to make municipalities and regions in Central Europe more resilient to extreme weather events potentially exacerbated by climate change.
Started in March 2020, the project TEACHER-CE aimed to develop a strategy and a suite of integrated tools to support communities, decision makers, experts and professionals dealing with land and water resources management, handling and managing the design and implementation of efficient adaptation actions to tackle climate change. More in detail, six Fields of Actions were identified: water scarcity and drought management; pluvial floods; river floods; ecosystems directly depending on water resources, irrigation management, groundwater management, drinking water resources management.
The project is coordinated by the University of Ljubljana and includes twelve partners from eight different countries.