AquaticPollutants PhD Forum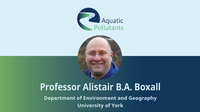 As part of the additional activities under the Joint Transnational Call of AquaticPollutants, an early career scientists PhD forum was established. The aim is to connect PhD students and post-docs of the research projects to each other, for improving their research, capacities increasing their professional network, and to broaden their possibilities.
The forum consists of a series of activities for the early career scientists of the co-funded projects, such as webinars, networking meetings (online and face-to-face when possible) and social network activities through LinkedIn. PhDs and post-docs will meet regularly to exchange on their research. Out of these connections, synergies can be gained and the transnational cooperation and exploitation of research results can improve by e.g. jointly publishing their studies in journals, books etc.
In addition, the PhD Forum will support the alignment of the three participating JPIs by connecting the researchers of the different disciplines. The idea is that the PhDs will understand and know the stakeholders of their research. Therewith, if implemented, they will understand the features of European research and will be able to apply for funds themselves in the future.
The first webinar took place on May 9th and featured Dr. Yael Kiro, a geochemist of the Weizmann Institute, who gave her lecture on the role of coastal aquifers in ocean chemistry, possible effects on the carbon cycle and climate.
Our upcoming webinars:
| | | | |
| --- | --- | --- | --- |
| Date | Time (CET) | Lecturer | Subject |
| June 28th | 14:00 | Prof. Alistair B.A. Boxall | The Global Problem of Pharmaceutical Pollution |
| July 19th | 14:00 | Prof. Semion Polinov | Spatial and temporal assessment of oil spills in the Mediterranean Sea |
You may be updated on the forum's next webinars on LinkedIn - please follow for more information on the forum's activities.