Mission "Restore our Ocean and Waters by 2030"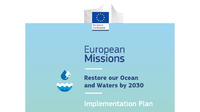 On 29 September 2021, the Mission "Restore our Ocean and Waters by 2030" was officially launched as one of five Missions with the adoption of the Communication on European Missions.
The objective of this Mission is to restore the health of our ocean and waters by 2030. The Mission's new systemic approach will address the ocean and waters as one, and will play a key role in achieving climate neutrality and restoring nature. The Mission will help achieve the European Union's objectives of protecting a minimum of 30% of the EU's sea area, as well as restoring marine eco-systems and 25,000 km of free-flowing rivers. In line with the EU Action Plan Towards Zero Pollution for Air, Water and Soil, the Mission objectives will also help to prevent and eliminate pollution by reducing plastic litter at sea and microplastics released into the environment, nutrient losses and use of chemical pesticides by 50%, and make the blue economy climate-neutral and circular with net-zero maritime emissions.
Links to Official documents:
https://ec.europa.eu/commission/presscorner/detail/en/IP_21_4747
EC Communication on Mission
https://ec.europa.eu/info/files/communication-commission-european-missions_en
Implementation Plan Mission Restore our Ocean and Waters
https://ec.europa.eu/info/publications/implementation-plans-eu-missions_en   
https://ec.europa.eu/info/files/eu-missions-concrete-solutions-our-greatest-challenges_en
https://ec.europa.eu/info/files/eu-mission-restore-our-ocean-and-waters_en