Water JPI: Sharing a Decade of Expertise for Sustainable Futures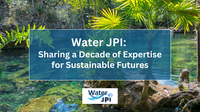 The Water Joint Programming Initiative (Water JPI), launched in 2010, is an inter-governmental structure created to tackle water challenges in Europe and beyond. It has developed in over more than ten years a vast amount of expertise to help mitigate the effects of anthropic impacts on water.
Supported by the EU, the Water JPI consortium gathers national funding agencies from different countries to support scientific research in the field of freshwater. Its main goal is to boost, share and communicate scientific research and findings to ultimately improve water management and quality.
Since its launch, the Water JPI has organised a wide variety of activities (joint calls, thematic and exploratory workshops, etc). It has created a new way to tackle water challenges by enabling the coordination of national research and innovation agendas by using available human and financial resources more efficiently. The work led by the Water JPI has aimed to define actions that should be adopted by society at large and policy-makers in particular.
The data, tests and experiences accumulated in the long run are of high scientific value to direct decisions for policy making and inform stakeholders. All the knowledge produced by Water JPI's activities has the objective to put policy actions in the right track. Stakeholders have always played a key role in Water JPI's activities by supporting the design and implementation of appropriate solutions (co-design and co-implementation principles). For this reason, the Water JPI actively fosters the participation of citizens, as well as the industrial and economic sectors, in shaping its initiatives.
Water, a central issue
Freshwater is a central issue for human society and environmental fields. All forms of life on earth rely on water. This invaluable resource is more and more under stress: scarcity is increasing, as demand is growing for its use. Pollution is another stress factor due to human habits and activities and climate change also worsens the situation.
Everyone should be aware of the value of this important resource and how we all need to preserve it for life quality and future well-being of our society.
Water JPI Communication Campaign
During the "10 Years JPIs Conference", held in Austria in 2018, JPI representatives underlined the need for reinforced communication in order to showcase the results obtained to date and to inform the European research community of upcoming and past activities. Later discussions between Water JPI's Chair and vice-Chair highlighted the need for the Water JPI to implement an effective communication campaign using the available resources at the Secretariat and Coordination team, hosted by ANR. The present campaign comes as a response to this latent need.
This communication has for objectives to:
Widely communicate all Water JPI's activities, including those undertaken within the framework of supporting projects, Horizon Europe projects, and the Task Force "Horizon Europe and Alignment".
Disseminate and contribute to the sustainability of Water JPI's results and its key player role in the shaping of European water policies and the provision of solutions with a potential market uptake.
Inform the European research and innovation community, policy-makers and society in general of the Water JPI achievements and running activities.
After more than 10 years of functioning, the Water JPI has gathered and created a great amount of knowledge in the scientific fresh water field.
For the coming months, we will give you information on different topics, such as the importance of funding scientific research for fresh water as a central subject – with interviews to different funded project coordinators, policy makers, citizens or members of the Water JPI – and about the necessity of cooperation at different levels on research in the water field. We will publish regular content on our website and on our social media profiles (LinkedIn group and Twitter).