LIFE 2022 Calls for proposals open!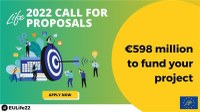 The European Commission has launched on 17th May the LIFE Programme 2022 Calls for project proposals. This year, there is €598 million available for nature conservation, environmental protection, climate action, and clean energy transition projects. LIFE funds projects under its four sub-programmes:
nature and biodiversity - €242 million
circular economy and quality of life - €158 million
climate change mitigation and adaptation - €99 million
clean energy transition - €98 million
How can I apply?
Go to the European Commission's funding & tender opportunities portal where you will find information on LIFE 2022 Calls for proposals as well as further instructions on how to submit your application.
Where can I find out more?
You can find a wealth of information on the kinds of funded projects, application dates and how to apply on the 2022 LIFE call for proposals page. To be better prepared, you can also follow the recordings of last year!
More detailed information on the LIFE programme is available on the LIFE Website.