Outcomes of the Water JPI Conference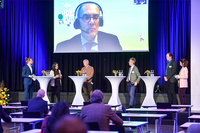 Successful 3rd WATER JPI CONFERENCE on the topic "FROM RESEARCH TO PRACTICE: POLLUTANTS, PATHOGENS AND ANTIMICROBIAL RESISTANCES IN THE WATER CYCLE"
The third Water JPI Conference held on November 17th, 2021 in Mülheim a.d.R. was a successful step in the networking of international experts on the way to tackling pollution in the aquatic environment. The event was hosted by the German Federal Ministry of Education and Research.
Over 240 international participants (online and on-site) followed the 16 speakers from eleven countries and their presentations under the motto "From Research to Practice: pollutants, pathogens and antimicrobial resistances in the water cycle".
The experts from research, practice and policy gave lectures on challenges, risks and solutions. The spectrum of the topics and the questions from the plenum made clear the width of aquatic problems that threaten to worsen in the course of climate change, industrialization and inadequate protective mechanisms. In two parallel sessions on the topics "Chemicals" and "Pathogens and AMR" the high technical quality of research and practice in dealing with the problems was expressed. They also showed the successful transfer processes between research and practice. This was also made clear by the poster session of the 18 R&D projects funded under the ERA-NET Cofund "AquaticPollutants", a collaboration between the Water JPI, JPI Oceans and JPIAMR.
The JUNIOR WATER JUMP Award was presented for the first time on the occasion of this conference - a competition that enables start-ups in the European water sector to present themselves and their ideas to a high-ranking jury. Two winning teams stood out from the group of finalists from a total of five represented nations. The winner of the award is Resistomap from Finland, the second winner is ColFerroX from Germany. RWW Rheinisch-Westfälische Wasserwerkgesellschaft, together with SKION Water, donated the first prize endowed with 13,000 euros. Isle Utilities awarded an attractive second prize with a business coaching session.
The day after the conference, two excursions were carried out in a small group. While the Emschergenossenschaft welcomed those interested in the sewage treatment at the wastewater treatment plant Dinslaken, the topic of drinking water treatment was presented at the waterworks of the RWW Rheinisch-Westfälische Wasserwerkgesellschaft in Mülheim. This is also an example of the transfer nature of the 3rd Water JPI Conference "From Research into Practice".
The event contents, discussions and lectures are available as posters, videos and presentations on the conference website at waterjpi-conference-muelheim.com.
Information on other Water JPI activities and events are available on the following website: www.waterjpi.eu.