World Water Week 2022
Deadline for submission: 6th March 2022 | Event: from 23rd August to 1st September 2022 | Online and in Stockholm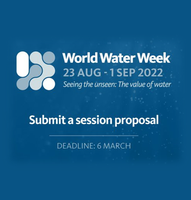 World Water Week 2022 will take place 23 August to 1 September 2022 online and in Stockholm under the theme "Seeing the unseen: The value of water". This new format will offer opportunities to connect face to face and online to engage audiences worldwide. s and join us in addressing the world's most pressing challenges. Apply now!
Do you want to foster world-wide conversations about water issues?
Do you want to share innovative findings, tools and processes to advance the way we manage and use water with a global audience?
Host a session at World Water Week for high-impact engagement with the global water community! It's the ideal platform to share knowledge, gain momentum for projects and promote your organization. Learn more and submit your session proposal: click here.
DEADLINE 6 March 2022
Registration for participants will open later this year.