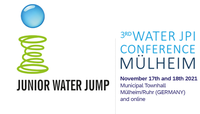 INTERNATIONAL WATER INNOVATION COMPETITION
"Solutions against pollutants,pathogens and antimicrobial resistances in the water cycle"
Are you an innovator, a startup company based in Europe or in a Water JPI member country? Do you have an innovative solution to solve the challenges in the water cycle? 
_
Apply for the JUNIOR WATER JUMP!
The JUNIOR WATER JUMP is a water-related startup competition focusing on solutions with initial evidence to assess, to reduce and/or to avoid pollutants, pathogens and antimicrobial resistant bacteria in the water cycle.
This international competition is planned as part of the 2021 Water JPI Conference on November 17, 2021 in Mülheim an der Ruhr.
The competition is aimed at young innovators and startup companies with "Marketable and efficient solutions". It gives young companies in the water sector the opportunity to present their business models and creative ideas. Digital solutions or significant digital parts of a solution are of special interest.
What are the next steps?
Submission of project description

–  16 August

Submission of video pitches

–  17 September

Notification of finalists –

 15 October

Conference awarding –

 17 November
Sign up for the conference newsletter to stay updated
Who are the supporters?
The 3rd Water JPI Conference as anchor-event is hosted by the German Federal Ministry of Education and Research (BMBF). The Junior Water Jump is organized by RWW Rheinisch-Westfälische Wasserwerksgesellschaft mbH.
_
About the Water JPI Conference
The 3rd Water JPI Conference is organized under the motto "FROM RESEARCH TO PRACTICE: POLLUTANTS, PATHOGENS AND ANTIMICROBIAL RESISTANCES IN THE WATER CYCLE" and takes place as a hybrid event due to the pandemic situation. The central themes of the event are pollutants, pathogens and antibiotic resistance in the water cycle. The focus is on the transfer from science to application. Therefore, the event is not only aimed at the scientific community, but explicitly also at companies, associations, municipalities and utility companies.
Find more information and register on the Water JPI Conference dedicated webpage: